For your Indonesian Fiancee
Getting a Fiance or Spouse Visa to leave Indonesia to join your husband in the USA takes a LONG time. 7 - 9 months for Fiancee. 10 to 16 months for Spouse. Its just like shooting a rocket to Mars. You work, you prepare, you LAUNCH, then you wait. Besides dotting the "i's" and crossing the "t's", the ONLY thing you can control is how soon you launch. In the case of immigration, its how soon you send in your complete Fiance or Spouse petition.

Simply said, "the SOONER you start, the SOONER you get here". Delaying, just stretches out the time you are separated.
Copy and Email him my phone number
1-800-806-3210 ext
or this address
http://www.visacoach.com/?ext=

In just a few minutes, I WILL set him straight. I'll teach him what needs to be done, I'll answer any questions he has. I'll clear up and make simple what seems so confusing.

The sooner he calls, the sooner you start your happy life in the USA.



Bringing your Indonesian Fiance to Your Doorstep from Indonesia Has Never Been Easier.
"After contacting him with a few questions, my fiance and I decided to use his services. I am glad we did. Fred was very straightforward and thorough. He made the process as smooth is it could possibly be. The entire procedure took about 6 months in total from my first email to Fred to my fiancee obtaining her visa at the U.S. Embassy Jakarta."

Alan + Maria, Fiancees from Indonesia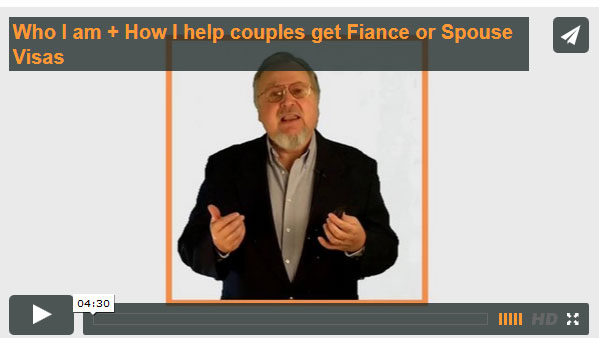 If you want your visa, FAST and SURE
you are at the right place.
I have recently (May 2014) had a case approved by USCIS in only NINE DAYS !!!!. USCIS barely had time to cash their check.
This means if hire Visa Coach,now, she will most likely join you, in the USA in about SIX months.
"Just wanted to let you know that my fiancee passed her interview.

Thanks once again for all your assistance thus far and look forward to the next steps in obtaining her green card upon our return and subsequent marriage.

Her interview lasted approximately 10 minutes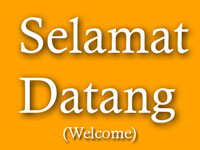 Indonesian Fiancee + Spouse Visa Help
(this video is specially made for your

Bahasa Speaking Indonesian

fiancee or spouse, to help her understand how I personally guide you through this complicated immigration process)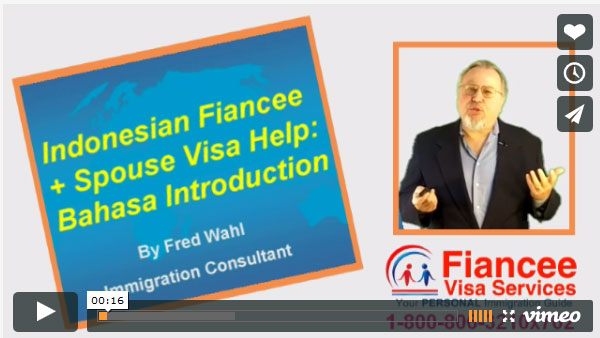 Click here to view the English Version of the above Video
Not only do I know the Indonesia, and am an expert with over 36 years experience, but I ALSO know how to help make your Interview at the US Embassy in Jakarta easier for you. When I work with my couples, I ALWAYS help them to "FRONT-LOAD" their fiancee or spousal visa petition. This helps to answer the questions the consular officer normally asks, and once answered, he won't have much left to ask YOU. Watch my video below that explains how I can take the pressure off of you.

You only have ONE chance to make a First Impression.

Most Consulate Visa interviews last a grueling 15 to 30 minutes

most of MY Fiance Visa Petition clients
pass the interview in ONLY 5 minutes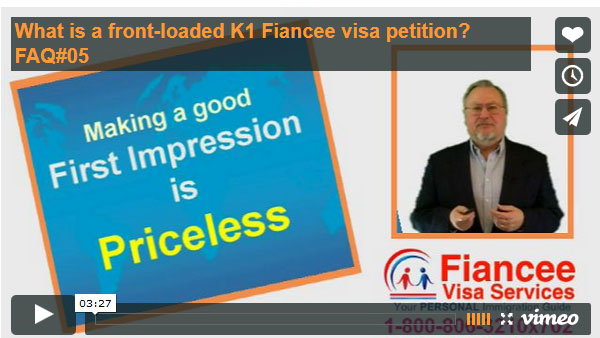 This is because we provide the information we want the consular officer to see, 'up front' as part of the petition submitted originally to USCIS. The consular officer will typically review the package prior to the interview. When he reads the extensive and persuasive evidence that we have logically laid out for him, he should be convinced of the 'bona fides' of the relationship before the interview even starts.

This makes asking any remaining questions more a formality than a fact finding, interrogation, and leaves very little for the consular officer to say besides 'Welcome to America'.

It certainly requires extra work and effort, to produce a 100 to 150 page petition, versus a few dozen pages that most un-motivated preparers are willing to submit, but the benefit is PRICELESS as it results in of taking the pressure off of the fiancee to :"PERFORM" at the interview, thus improves chance of SUCCESS.
Get Visa to Join your Lover: Sooner...I've Been Helping International Couples Unite for Over 35 Years!
You want to come to the US as quickly as possible, without anxiety, and for a reasonable cost, right? Then we're on the same page.


I am a fiance visa specialist with over 35 years experience in international matchmaking.
My sole focus is helping couples navigate the complicated US fiancee visa requirements with ease so they can obtain their K1 fiancee or CR1 Marriage Visa and be united permanently.


This isn't just a business for me.
I petitioned successfully for MY wife, (AND my Fiancee) too.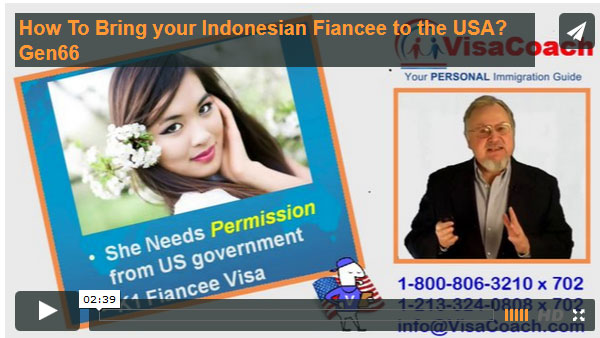 I genuinely care, and I work with you one-on-one throughout the entire process until you succeed. My edge is that I offer unique support that comes from 35 years of experience helping many hundreds of real couples like you. Their stories and their experiences are the foundation of "what really works" in addition to following the fiance + spousal visa procedures.

Fred Wahl telah berpengalaman sejak lama membantu banyak pasangan untuk mendapatkan Visa agar bisa tinggal di USA. dan Dia bisa membantu anda juga.

Fred mengerti bahwa anda akan mengalami proses yang sulit dan menakutkan, itulah mengapa dia memastikan secara personal setiap pasangan yang dibantunya melalui setiap tahapan dengan lancar. Dia adalah konsultan imigrasi terikat, dan juga pencari pasangan terkenal. Sebagai  pencari pasangan, misi dia adalah untuk membuat pasangan menikah dan memiliki kehidupan yang bahagia.

Sebagai konsultan imigrasi, misi dia adalah untuk membantu pasangan untuk kembali bersama di USA dengan cepat dan senyaman mungkin. Dia selalu memberikan perhatian dan dukungan personal, memastikan anda merasa nyaman di setiap tahapan.

Dia mengetahui dengan familiar semua prosedur imigrasi sampai ke detail terakhir, dan akan memastikan tidak akan ada kejutan masalah yang tidak diinginkan. Dia memiliki  tahunan bertahun tahun pengalaman dan mengetahui bahwa juka jika kita melakukan persiapan dengan tepat di awal, semua proses akan berjalan dengan lancar.

Tidak seperti konsultan lain yang mungkin anda temui, Fred sangat perduli dengan pasangan yang menjadi klien nya, dan secara tulus ingin membantu agar semua berjalan dengan sukses.

Dia berkomunikasi dengan jelas, dan dapat dihubungi hari senin sampai jumat secara langsung dengan telepon atau email.dan Dia juga selalu merespon secara personal, saat itu juga.

Mempersiapkan permohonan Visa yang sukses adalah pekerjaan yang membutuhkan seni dan ilmu pengetahuan. Ilmu pengetahuan adalah bagaimana mengisi formulir dengan benar dan menyertakan semua dokumen resmi sesuai aturan.

Seni nya adalah bagaimana menampilkan bukti yang tepat, untuk meyakinkan bahwa anda berdua adalah pasangan yang sesungguhnya. Fred mempunyai kemampuan yang mumpuni handal dalam seni bercerita mengenai kisah anda dan akan memastikan cerita tersebut terlihat asli dan meyakinkan Menyiapkan permohonan visa adalah hal yang sangat rumit. karena Semua formulir harus di isi di Amerika Serikat.

Walaupun tampak lebih mudah untuk menyewa seseorang yang berbicara dengan bahasa yang sama seperti anda, pada akhirnya dia tidak akan mampu untuk membantu dengan bagian yang paling penting, yaitu komunikasi dan kordinasi langsung antara saya dan dan tunangan anda, untuk memastikan permohonan yang dihasilkan adalah yang terbaik, komplit, dan semua sentuhan akhir sudah dilakukan dengan benar.

Fred juga akan terus membantu anda, begitu anda tiba di US dan memastikan anda melalui masa transisi yang lancar dan mudah untuk tinggal di tempat tinggal baru anda, dan juga membantu anda untuk mendaftar kewarganegaraan permanen. Pekerjaan ini juga yang tidak bisa dilbantu dibantu oleh konsultan lokal di negara anda.

Fred Wahl berani mengungkapkan bahwa dia bekerja dengan sangat professional. Dia tidak hanya memastikan bahwa semua dokumen dalam urutan yang benar, tapi juga memastikan anda merasa nyaman melalui setiap proses, dan anda akan mengetahui apa yang akan terjadi dan merespon nya dengan kalimat yang tepat.

Permohonan yang dikerjakan oleh Fred umumnya di kabulkan lebih cepat daripada biasanya. Untuk setiap langkah yang harus dilalui, anda bisa masuk ke akun website pribadi, yang akan diberikan memberikan penjelasan dengan jelas oleh fred mengenai apa saja yang harus dilakukan selanjutnya.

Dan apabila sudah tiba saatnya untuk melakukan wawancara di kedutaan, dia akan menyiapkan apa yang harus diucapkan, yang harus dibawa dan memberikan anda dengan memberi anda 120 pertanyaan sulit, yang dapat anda latih bersama dengan pasangan anda, jadi anda akan siap apabila mereka mengajukan pertanyaan.

Fred Wahl menginginkan anda untuk hidup bahagia selamanya. Jika permohonan visa adalah penghalang terakhir, untuk anda mencapai kebahagiaan itu. Biarkan Fred menjadi teman anda untuk membimbing  anda melalui proses ini dengan benar.

Anda bisa mendiskusikan lebih detail dengan Fred melalui sambungan telpon secara pribadi, jadi jangan ragu untuk mengontak dia kapan saja. Untuk hal sepenting ini, pastikan anda memilih seseorang yang bisa anda percaya. Kunjungi VisaCoach.com untuk memulai.
Let me do ALL the work for you.
I guide my clients through the whole process, starting with strategy to help you ANTICIPATE what the consulate you are dealing with wants, helping you to plan trips, and collect evidences, from a personalized, detailed "kitchen sink" document and photo check list, to preparing an AWESOME petition that because it is complete, and thorough, and well organized, and tells your story in the most believable way, paves the way for your Fiancee to have a sucessful AND pleasant interview. Not only do I prepare the intitial petition, but I ALSO stay with you all the way through the time we wait for USCIS to approve, providing guidance on police certificates, vaccinations and interview questions, then in the final run-up to the interview, show you how to schedule the earliest appointment and lastly I upload to your private page, completed forms for your Fiance(e) to sign to take to the interview at the US embassy in Jakarta, detailed instructions on obtaining chest x-ray, blood tests and physical at one of the Jakarta Panel Medical Clinics, paying the visa fees at Standard Chartered Bank or Permata Bank, obtaining Police Certificates from countries lived in outside Indonesia, (Police Certificates from Indonesia are not required) , details on exactly what needs to be done what you and your Fiance(e) should do to prepare for the interview, a list of 120 most likely interview questions for you to practice, a completed affidavit of support for your signature.


By Fred Wahl
the Visa Coach