How to get Fiance Visa?
K1 Fiancee Visa
using form I129F
The application process begins when the Sponsor obtains a package of application forms known as the Fiancee Visa package. These forms can be obtained from USCIS offices, USCIS.gov, or ordered by phone.

The Fiancee Visa package generally consists of the I-129F application, plus two G-325A biographical background forms. The Sponsor completes the I-129F and one biographical form, the Fiancee completes the other.

I-129F
g-325a (for sponsor)
g-325a (for fiancee)


The three forms are combined with supporting documents that demonstrate the couples eligibility, such as birth certificates, visa photos, divorce decrees, name change, adoption records, proof of a recent meeting, and Intent to Marry.. all are mailed together to USCIS accompanied by the filing fee. My signature philosophy is that the initial petition is a golden opportunity to tell the complete story. I always ALSO attach compelling evidences of the couples genuine relationship or "bona fides", A "front-ended" petiiton includes carefully selected samples of correspondences, phone bills, emails, logs of instant messaging, money transfers, proof of travel, more photos, and a heartfelt letter describing the history of the relationship in the personal and sincere voice of the sponsor.

USCIS approves, passes the case to NVC, NVC passes the case to the consulate in her country.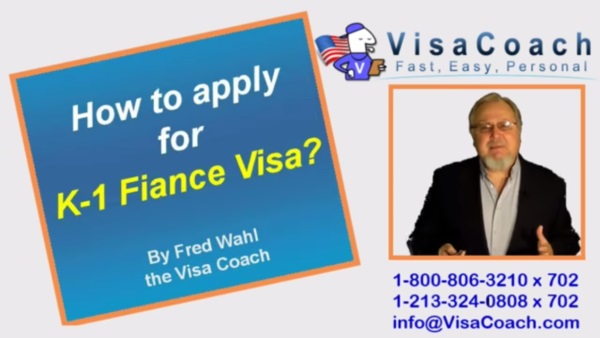 The consulate contacts the fiancee and provides the final forms and instructions.

Typically the consulate sends her the following forms to complete.

DS-156
DS-156K
DS-157 or DS-230


At the same time the US sponsor is asked to complete his affidavit of support I-134

On the day of the interview the fiancee will take with her to the consulate her and her sponsors forms, as well as proof that the sponsor is financially eligible. She will bring in original copies of her passport, birth certificate and other civil documents as well as the sponsors recent tax returns, pay stubs and other proof of his income.

After a successful interview the consulate normally returns the fiancee's passport with its visa to her via courier within 1 to 2 weeks.

She can start her trip to the USA immediately.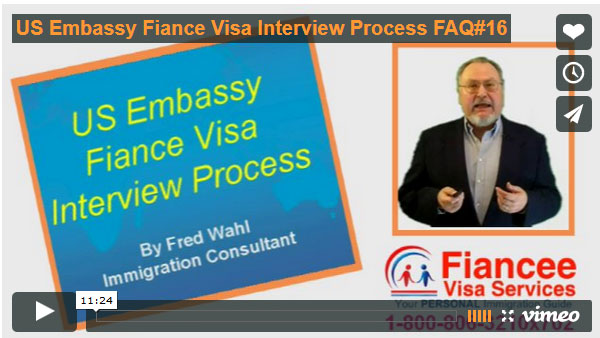 By Fred Wahl