Lesbian, Gay, BiSexual, or Transgender)Spouse to USA
US Supreme court has ruled that Same sex couple may not be discriminated against. This includes immigration, meaning that same sex married couples may apply for spouse visas, and same sex engaged couples may apply for fiancee visas.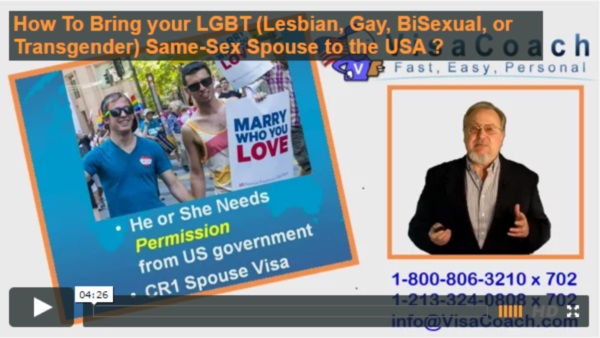 In June 2013, the Supreme Court ruled that Section 3 of the Defense of Marriage Act (DOMA) which discriminated against same sex marriage is unconstitutional.
A week later Homeland security Secretary: Janet Napolitano officially announced:
"I have directed U.S. Citizenship and Immigration Services (USCIS) to review immigration visa petitions filed on behalf of a same-sex spouse in the same manner as those filed on behalf of an opposite-sex spouse."
So far no specific instructions, special procedures, etc have been handed down. HOWEVER Experts agree, that the process for same sex spouse's applying for Spouse visas should also be treated the same as mixed gender couples.
Your Spouse needs permission from the US government to allow him or her to enter the USA. This is called a CR1 Spouse visa.
First we work together to assemble a thick packet of forms, evidences and civil documents. This is required to demonstrate that you are eligible to apply, and that your true agenda is a genuine life together,not immigration fraud.
My signature philosophy is that a petition should ALWAYS be "front loaded" with high quality evidence of a bona fide relationship. My "front loaded" petitions prepare the way so that your Spouse will have an Easier interview.
The petition package is mailed to the United States Customs and Immigration Service.
USCIS takes about 1 to 2 months to review and approve. This includes a background check on YOU, by the FBI.
When finished, USCIS hands the case over to the US State Department's National Visa Center.
NVC requests a second packet of forms and civil documents,and payment of affidavit of support and visa application fees. Once satisfied, they assign a new case number and forward your file via diplomatic pouch to the consulate assigned for your spouse.
Once his or her petition has arrived your spouse contacts the consulate to book the interview date.
About a week or more before the interview your spouse undergoes a medical exam at clinic appointed by the consulate. >
Finally your spouse attends an interview at the US consulate where he or she MUST demonstrate he or she is of good moral character and the marriage is bona fide.
One to Two weeks later the visa is issued, and he or she can join you in the USA.
This is Fred Wahl the Visa Coach I do the work, you get the gal (or guy)

By Fred Wahl
the Visa Coach