I had pretty good knowledge of the visa process before contacting Fred Wahl, because I'd lived outside the US for five years, and talked to many other people who'd gone through the process. But despite this knowledge -- or perhaps because of it -- I knew that I needed help.

Fred's service, expertise, and thoroughness was top-notch. He guided us along every step, and provided tons of valuable insight, tips, and advice. The K-1 petition he prepared was superb, and I have no doubt that the quality of the package we submitted made a big difference in our approval.

In fact, we completed the entire process -- from first submission to visa approval at the US Embassy in Manila -- in just over two months. That was about five or six months faster than I expected. At the Embassy, we watched many people turned away because their petition lacked something; Fred made sure that ours was "bulletproof."

Without hesitation, we recommend the services of Fred Wahl and the Visa Coach organization.

Bruce + May
Front Loaded Fiance Visa Petition
Most consulate interviews last a grueling 15 to 30 minutes
Most of MY clients pass their interview and are approved for their visa's in under 5 cordial minutes.
Hello coach! Everything went smooth and fast.. my appointment time is 7:30AM and done 9:30am. My final interview was american consul it was just less than a minute.. he just asked my petitioners name... that's it! I was amazed and asked him.. am I approved? He answered yes, congratulations! He doesn't even asked the docs from my fiancee.. lol. I was just very lucky that so quick...

Thank you so much coach! Appreciated with your help.

Jeff + Daisy
This is because we provide the information we want the consular officer to see, 'up front' as part of the petition submitted originally to USCIS. The consular officer will typically review the package prior to the interview. When he reads the extensive and persuasive evidence that we have logically laid out for him, he should be convnced of the 'bone fides' of the relationship before the interview even starts.
This makes asking any remaining questions more a formality than a fact finding, truth finding mission, and leaves very little for the consular officer to say besides 'Welcome to America'.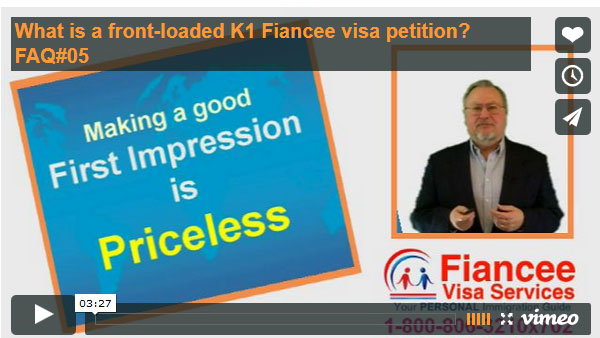 I carefully pore over the documents the couple has, include the following EXTRA documents in my Front Loaded Fiance Visa Petitions
Photos of the couple together
Affidavits from witnesses who know the couple
Engagement Ring Receipts
Proof of Engagement Celebration
Publication of Engagement Announcement
Travel Itineries to meet
Travel Itineries from travel together
Exit/Exit Stamps from Passports
Log of Emails
Samples of Emails
Itemized Telephone Call Logs
Instant Messenger Logs
Samples of IM sessions
Proof of Money Transfers
Tuition Receipts for English Lessons

Plus any other documents that support the couples bone fides
And Finally a Heartfelt Letter on the "History of our Courtship"
It certainly requires extra work and effort, to produce a 100 to 150 page petition, versus a few dozen pages that most un-motivated preparers are willing to submit, but the benefit is PRICELESS as it results in of taking the pressure off of your fiancee, and improves chances of SUCCESS.
By Fred Wahl