Getting a Fiance or Spouse Visa to leave Ethiopia to join your husband in the USA takes time and attention to detail.

Simply said, "the SOONER you start, the SOONER you get here". Delaying, just stretches out the time you are separated.
Copy and Email him my phone number
1-800-806-3210 ext
or this address
http://www.visacoach.com/?ext=

In just a few minutes, I WILL set him straight. I'll teach him what needs to be done, I'll answer any questions he has. I'll clear up and make simple what seems so confusing.

The sooner he calls, the sooner you start your happy life in the USA.

Bringing Her From Ethiopia to Your Doorstep Has Never Been Easier.
Hi Fred, great news! Meseret was grated her K-1 visa at her interview today. She said it was very short and easy. They didn't even ask for any financial evidence or ask many questions. We are so relieved and are planning her trip to the states. Thank you for everything.

Glenn + Meseret


Ethiopia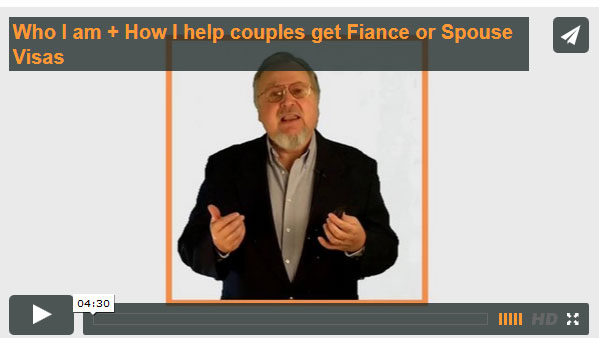 If you want your visa, FAST and SURE
you are at the right place.
I have recently (May 2014) had a case approved by USCIS in only NINE DAYS !!!!. USCIS barely had time to cash their check.
This means if hire Visa Coach,now, she will most likely join you, in the USA in about SIX months.
Hi Fred- I just want to thank you for your wonderful assistance. I really appreciate it.

Thanks again,
Paul + Mekonnen


Ethiopia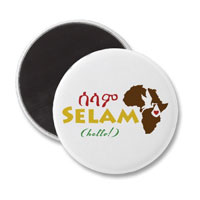 Ethiopian Fiance + Spouse Visa Help
(this video is specially made for your Amharic Speaking Ethiopian fiance or spouse, to help her understand how I personally guide you through this complicated Fiance Visa Ethiopia immigration process)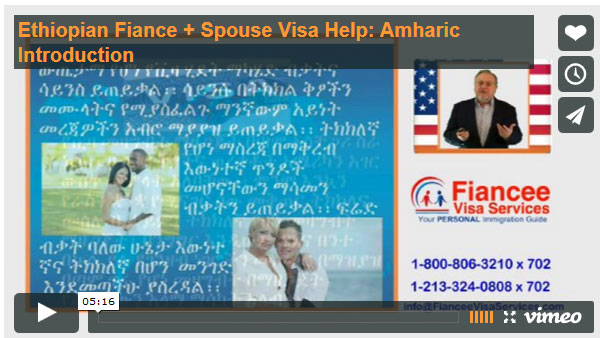 Click to read the transcript of the above
Ethiopian Amharic Fiancee + Spousal Visa Help Message


Click here to view the English Version of the above Video
Let me do ALL the work for you.
I guide my clients through the whole process, starting with strategy to help you ANTICIPATE what the consulate you are dealing with wants, helping you to plan trips, and collect evidences, from a personalized, detailed "kitchen sink" document and photo check list, to preparing an AWESOME petition that because it is complete, and thorough, and well organized, and tells your story in the most believable way, paves the way for your Fiancee to have a sucessful AND pleasant interview. Not only do I prepare the intitial petition, but I ALSO stay with you all the way through the time we wait for USCIS to approve, providing guidance on police certificates, vaccinations and interview questions, then in the final run-up to the interview, show you how to schedule the earliest appointment and lastly I upload to your private page, completed forms for your Fiance(e) to sign to take to the interview at the US embassy in Addis, detailed instructions on obtaining chest x-ray and blood tests at Cathedral Higher Clinic, St. Yared General Hospital, or International Office for Migration (IOM), paying the visa fees at the Consulate , obtaining Police Certificates from the Ethiopian Federal Police Commission Forensic Investigation Department, details on exactly what needs to be done, what you and your Fiance(e) should do to prepare for the interview, a list of 120 most likely i


By Fred Wahl