For your Vietnamese Fiancee
Getting a Fiance or Spouse Visa to leave Vietnam to join your husband in the USA takes time and effort.

Simply said, "the SOONER you start, the SOONER you get here". Delaying, just stretches out the time you are separated.
Getting Fiancee or spousal visas for Vietnam is much harder than from most other countries. The consular officers in Ho Chi Minh City apply a higher standard before they accept that a relationship is genuine. They expect a petitioner to have made multiple trips, to have had a long engagement, and to be able to communicate well with his fiancee in vietnamese or english.
Copy and Email him my phone number
1-800-806-3210 ext
or this address
http://www.visacoach.com/?ext=

In just a few minutes, I WILL set him straight. I'll teach him what needs to be done, I'll answer any questions he has. I'll clear up and make simple what seems so confusing.

The sooner he calls, the sooner you start your happy life in the USA.



Bringing Her From Vietnam to Your Doorstep. I can help.
Just wanted to let you know that my fiancee passed her interview.

Thanks once again for all your assistance thus far and look forward to the next steps in obtaining her green card upon our return and subsequent marriage.

Her interview lasted approximately 10 minutes

Frank and Mai


Vietnam
If you want your visa, FAST and SURE
you are at the right place.
I have recently (May 2014) had a case approved by USCIS in only NINE DAYS !!!!. USCIS barely had time to cash their check.
This means if hire Visa Coach,now, she will most likely join you, in the USA in about SIX months.

Everyone we talked to kept telling us how easy it was to meet online and simply write a letter and petition, for her to meet me and marry in the U.S. They kept saying all you have to do is fly to Vietnam and meet in person take some pictures and you will be married within a few months. Well let me tell you that is not the case! Anyone telling you that is not being truthful, and it will cost you a lot of time and a lot of money to try and straighten out these problems if you don't have someone to help guide you like Mr. Wahl did for us.

We were denied in our first petition and Mr. Wahl looked at our situation and advised us in what we needed to do to get our EVIDENCE and proper papers in order so the U.S consulate in Vietnam would know we were in love and not trying to commit Fraud to gain access to the United States.

Nhanh and myself have talked to Mr. Wahl many times during this process, and he was always easily accessible to answer questions and give guidance and advice to help make sure our petition was the best it could be to show how much we were in love.

My dear friends i can tell you from experience That you don't need a LAWYER to handle your petition, but you TRULY need someone willing to help you and tell you the truth about bringing someone to the U.S., and Fred Wahl has guided us from our lack of information and mistakes to making sure we were happily together in each others arms and now married.

Thanks Fred

Your friends Dale and Nhanh


Vietnam

Vietnamese Fiancee + Spouse Visa Help
(this video is specially made for your Vietnamese fiancee or spouse, to help her understand how I personally guide you through this complicated immigration process)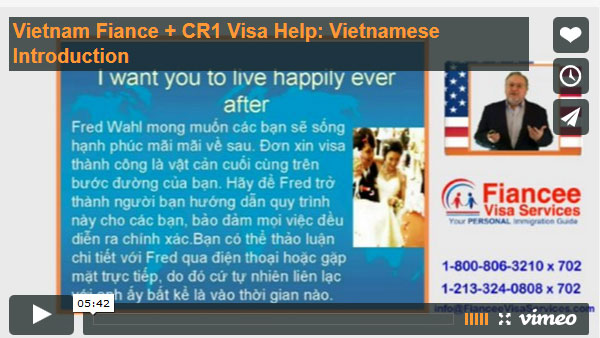 Click to read the transcript of the above
Vietnamese Fiancee + Spousal Visa Help Message


Click here to view the English Version of the above Video
Let me do ALL the work for you.
I guide my clients through the whole process, starting with strategy to help you ANTICIPATE what the consulate you are dealing with wants, helping you to plan trips, and collect evidences, from a personalized, detailed "kitchen sink" document and photo check list, to preparing an AWESOME petition that because it is complete, and thorough, and well organized, and tells your story in the most believable way, paves the way for your Fiancee to have a sucessful AND pleasant interview. Not only do I prepare the intitial petition, but I ALSO stay with you all the way through the time we wait for USCIS to approve, providing guidance on police certificates, vaccinations and interview questions, then in the final run-up to the interview, show you how to schedule the earliest appointment and lastly I upload to your private page, completed forms for your Fiance(e) to sign to take to the interview at the US embassy in Ho Chi Minh City, detailed instructions on obtaining vaccinations at the Quarantine Service of HCMC, physical at one of the two Ho Chi Minh City Panel Physicians Cho Ray Hospital or the International Organization for Migration, paying the visa fees at CitiBank, obtaining Police Certificates "Justice Record Check" from Department of Justice, details on exactly what needs to be done what you and your Fiance(e) should do to prepare for the interview, a list of 120 most likely interview questions for you to practice, a completed affidavit of support for your signature.


By Fred Wahl