This is what Couples I have helped say.

Our wedding and honeymoon was in the middle of May. We are so happy that finally our dreams came true and we are together and married now.
We would both like to say thank you for the great job that you have done for us; for you quick responses and making clear all the uncertainties and questions that we had. Everything that was connected with your job was done perfect! Though it took us time to gather all necessary information and evidence to apply for the visa and then the time waiting for the visa approval seemed endless. Your help made our process smooth and less stressful.
We have a friend that applied for K-1 visa before we did and they faced problems with filling the papers in a correctly. We didn't want to risk the same, so by choosing your service we did not have these kinds of problems. Oksana and I both are sure we made the right decision to ask for your help.
My fiancee's interview was easy and took about 25 minutes. She was asked when and where we met each other and how many times we met?; What are both of our jobs?, and where are we going to live in the USA?; How do we like to spend our time together? and what are our hobbies?
The interview went successfully and she got her visa immediately. We still have a couple of unmarried friends and if they find a foreign love we would definitely advise them to contact you for your help with applying for visa.
Thanks again! .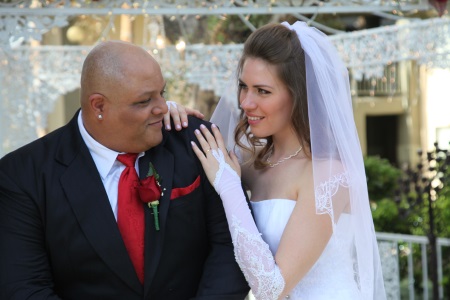 George + Oksana

Russia

Rowena and her son were approved yesterday for her K-1 and her son's K-2 Visa at their interview here in Manila, Philippines. She is very happy now with only the Guidance and Counseling Session to go. Then we can go to the USA.
When she got back here to the apt. from her interview yesterday she said, "
Thank you Sweetie for sticking with me thro all the process and also thank Fred for all of his work, and that he (Fred) did a great job. I know I wasn't always easy to work with."
She also said,
"Some of the other women didn't have all their papers but I had everything they ask for and more, and they didn't ask me or my son a lot of questions, that it was really easy."
One of the interviewers said,
"Wow You did a good job having all those papers."
Then Rowena said,
"My fiancée made sure I had everything I needed. Then the lady said, "Your fiancée did a very good job. Thanks Fred for all the info you put on the web sight that gave me all the info. I needed for her to get their Visa's.

Thanks, Fred, .


William and Rowena

Philippines

Me and my wife did not utilize Fred Wahl's service for the visa, I had hired an immigration attorney for the visa process, but, when the time came for applying for the I-485, I had decided not to continue on with the immigration attorney, and decided not to seek his service for this process, because, he was very unresponsive, not caring, and always complained I sent him too many emails with too many questions. My immigration attorney felt I should of known many things without having to ask him, but, if this was the case, then why would I need to hire his services?
Anyways, I did some research and decided to have Mr. Wahl construct our I-485 application.
During the process, me and my wife found Mr. Wahl to be very caring, understanding and very knowledgeable about the process. I sent him emails with questions, and he responded as quickly as he possibly could. He seemed to be understanding about our lack of knowledge of the I-485 process and was very patient with our questions and concerns.
I would recommend Mr. Wahl to anyone who is looking for knowledge, preparation, and organization of your K-1 Visa and or I-485 application preparations.
At this point and time, we are considering and will probably continue to use Mr. Wahl's services for the Unconditional greencard process.
Thank you Fred, for a well done, professional I-485 presentation on Narcisa and Ron's behalf.
Sincerely, .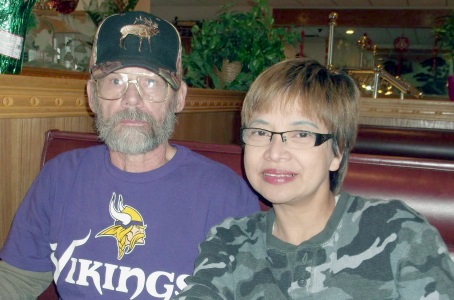 Ron and Narcisa

Philippines

My wife and I are more than satisfied with the services that you provide. Our friends requested your help previously so we decided to ask for you help as well. There is no doubt that without your help we would have had many headaches along the way because there is way too many documents and information for anyone to successfully "get together", given distances and immigration laws. .
Most of all, we wanted the planning of our future relationship to go smoothly and you were always there to help. .
We would also like to add that when we called, it was you and not a recorded voice or other people that we didn't know, whom we were able to talk to. That was a very big help. There were many times when I was feeling very stressed because of the waiting time and you would personally let me know that everything was going to be fine and it's the government and their lack of enthusiasm when it came to love, sort of speak. .
We highly recommend your services to anyone that has overseas relationships and want to be closer to each other. .
Thankfully, .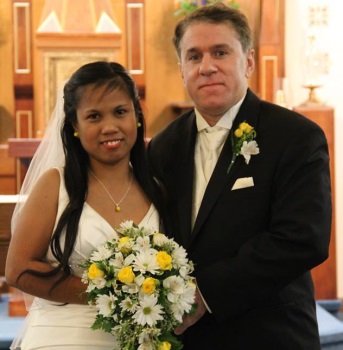 Calvin and Juvylesa

Philippines

I would strongly recommend Fred's assistance to anyone getting a foreign spouse. .
I did my due diligence on the internet reading the challenges and time sink involved in certain countries. After a few months of combing the internet my appetite for going at this without some assistant was nonexistent. .
I enlisted Fred's help for the K-1 and AOS service. The cost is negligible after you realize how much time you will save. I can't speak for all countries but my Fiancée's country of origin is a challenge to the relationship in itself. Working through her government processes to get the appropriate documentation and paperwork was nothing short of agonizing..
Thankfully I was able to lean on Fred's expertise to reassure her what has to be done in the most efficient and effective way possible to cut down on the time and multiple trips. I can't fathom the extra amount of time it would of taken us to navigate the red tape there without Fred's expertise. In addition she was very concerned about the physical and interview. .
Fred's vast knowledge base of embassy processes and interview expertise made her interview a non-issue and she was in and out in under 10 minutes. I am positive my fiancée valued this service above all others. This a very intimidating process to them and Fred's preparation calmed her down considerably and everything went as he promised it would. .
I whole heartedly recommend this service and thank you Fred! .

Chris & Regin

Philippines

When I started this K1 Fiancee Visa process, the only information I had or could get from was the internet. No guidance, no Manual or Handbook much like an IRS publication or Instructions on a Federal Form 1040. When I met my now wife, Jayme, on filipinaheart.com (now called cupidheart.com) I never knew that she was the one and this would be it. Actually no one ever knows that this person is the one, until it actually happens. After the countless emails, yahoo ims, yahoo video then skype video and phone conversations, the K1 fiancee journey became a reality. After months of reading about the K1s and all the other Ks with all other possible visas that could bring her to the U.S. the quickest, I turned my search to the immigration experts. Fred Wahl came up on my search. An Immigration Consultant who presented a clear cut website with the a list of petition/visa assistance services paired nowhere near the busy looking websites of others who offered similar services.
I emailed Fred and Fred answered. I called Fred and Fred answered his phone. I was shocked. No assistant, no receptionist, no red tape. Just Fred and his US Immigration expertise. A real human answers the phone- Imagine that!
From the K1 Fiancee visa filing along with Fred's step-by-step process of evidence gathering and presentation, the K1 Fiancee visa was approved after St. Lukes Medical and US Embassy interviews. Fred walks you through every step and every detail there exists in the process. Once Jayme stepped foot in the U.S., we then employed Fred's expertise for the 2nd leg filing the Adjustment of Status and Employment Card after getting married after 90 days of arrival. Following Fred's systematic process, my wife has received her Permanent Resident Card without any interviews or hassles. We are currently in the next phase of Removal of Conditions and have once again asked Fred to help us because he is simply the best at this Immigration thing. Everything has been a smooth process with no hassles. A precise, meticulous, results-driven individual, Fred is unparalled to any US Immigration expert out there
thank you so so much for bringing us joy and happiness! The best is still to come. .
Carlo & Jayme

Philippines

Here in Manila I had the chance to speak with a lady that is also currently under going the K-1 visa with her fiancée from California. They began their journey back in May of 2013! That means 9 months going on 10 by the time they do the interview and receive her K-1 visa. Additionally, my friend Bruce waited 11 full months to get his fiancée here to Texas and marry her. He contacted his congressman on 5 different occasions.
My point is this; both of this individuals DID NOT obtain the services of Fred Wahl! We DID and look what the end result is!!!!!
Oh sure, call it coincidental, label how ever you want. The bottom line is that we contacted you for your help and did this in shortly over 3 months!
The proof is in our paper work and our wait time. We just wanted to let you know how excited and thankful we are to you for helping us and everything you did during this K-1 visa application.
Your attention to detail is impeccable, your answer to emails & phone calls were always very supportive and helped guide us in the proper direction.
Thank you very much for all your help and I wouldn't hesitate to recommend your services to anyone!
Incidentally, I did inform these 2 people that I spoke of earlier in the message about us using visacoach services!
Thanks again Fred for your help..
Gary & Reyna

Philippines



Hi Fred, our testimonial to our love and your great service. Jenny and I wanted to be together as a couple. At first we were not sure if it is going to work because of our distance. With your help, you made our dreams come to reality. We know that our love is genuine but it was not easy for us to be together as a couple. You help us with the correct documents at the right time to make everything work. You also help us through the procedure in a very professional way with courtesy and kindness. As being together we owe that to you. We are so thankful for all you have done. For us, this is our life and you made everything come true. As of 01/30/14, Jenny has her 10-year residency and we are happily married. See pictures attached. Thank always.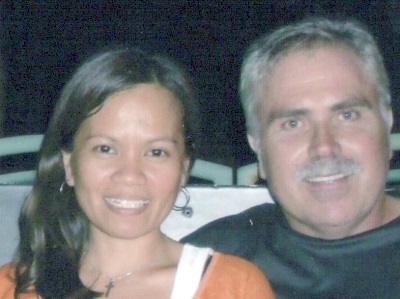 Charles + Jenny


Philippines