This is what Couples I have helped say.



hello Fred,

I want to keep you inform about the Status of my wife's AOS. We received yesterday 2013-10-28, the Approval letter from USCIS for my wife 2 years of Permanent Resident and no Interview needed !

She was also received earlier this month of Oct. 2013:
#1. The Employment Authorization card for 1 year
#2. She have the SSN card

Her plan is to attend the Community College on the Health Care major (MRI/Radiology dept) and working part times.

In summary, we are on schedule to build her future in the U.S and we just want you to know that we appreciate your works very much, you are the best Immigration Counselor in the United States, we will not hesitate to refer you to our friends and relative and also willing to be your references as well.

We will get back to you a few months before the expiration date 2 years of her Green Card to file the Removal Of Condition.

Again, you are a true Professional Immigration Counselor and we appreciate your works.

Sincerely,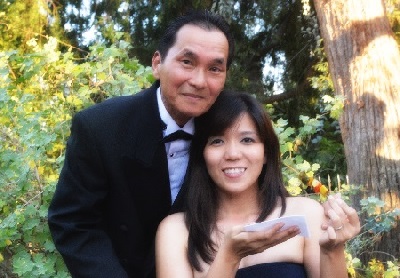 Tuan + Thao


Vietnam

Ps: I viewed your Website with our photo on it, thank you for keeping the private information. I just want you to remember that your work, your contribution are very helpful to the citizen of the United States and far above doing business, also...the USCIS should appreciate you to reduce their times, works load and the cost for the Taxt Payer ! Tuan





Fred, we credit you for Sherry's visa.

We are particularly grateful because our case was not straight forward, yet your advice invariably turned out to be correct. You assembled an impressive application package, and we were overjoyed when it was approved in only five months.

This was something we could never have achieved on our own because the application requirements were so complex or vague.

Additionally, Sherry was fully prepared for the visa interview, with the result that we are now together in the U.S., happily married, and awaiting approval of her adjustment of status application.

We thank you for your dedication to our case along with your depth of knowledge and amazing attention to detail.

William + Sherry


China



Just wanted to let you know that my fiancee passed her interview.

Thanks once again for all your assistance thus far and look forward to the next steps in obtaining her green card upon our return and subsequent marriage.

Her interview lasted approximately 10 minutes

Frank and Mai


Vietnam



Everything was done professionally. When we were uncertain about things you knew exactly how to ease our minds. Having these forms in our hands prepared by you gave us a sense of confidence as we sent them off. Your timeline was 5-7 months...it was 6 months exactly ,right on the money.

You responded to us very timely and knew how we were feeling when the Singapore clearance got snagged up by Singapore's beauracratic lazy workers....once the police clearance got there ,it took the embassy only 5 days to send her Visa. Everything was perfect in the packet preparation to the embassy.

You had insisted on me placing our engagement announcement in the paper...when Maribel was being interviewed in the embassy ,she said this engagement announcement was what really caught the interviewer's eye. So you were spot-on again about what documents to include in the packet. You know Fred ,it's funny now...in the early days of our filing others would say.."oh ,you need an immigration attorney or you will be years bringing her over".....now , since she got here so quickly they are asking me for your website and phone number ,lol.

Thanks so much Fred ,i will be downloading your form and sending you a postal money order soon for AOS for Maribel and Thessa.

Thanks. Brent


Philippines



Mr. Wahl's fiancée visa services were extremely vital for successfully bringing my wife to the United States with the K1 Fiancée Visa. Before discovering Fiancée Visa Services, I was so stressed and I was initially going to turn to an immigration attorney, but I was hesitant in paying thousands of dollars.

After my first phone conversation with Mr. Wahl, I could already sense his extensive knowledge and experience with the immigration process.

Using his services was the best choice I could have made. Mr. Wahl's service exceeded all of my expectations. He made the whole process a piece of cake.

I was surprised that he personally was able to take my calls most of the time or call me back shortly if he was on the other line.

I was so pleased with Mr. Wahl's work ethic; I used his services again for my wife's Adjustment of Status. My wife received her green card without any problems and once again Mr. Wahl simplified the process and eliminated all the headaches for me.

I cannot stress enough how valuable his services are and how extremely affordable.

The best part about it all is that my wife's K1 Fiancée Visa and Adjustment of Status cases were processed in under the state and national average processing times. It was a sincere pleasure and privilege working with Mr. Wahl, and I hope you make the right choice too.

Thanks again for all you help Mr. Wahl!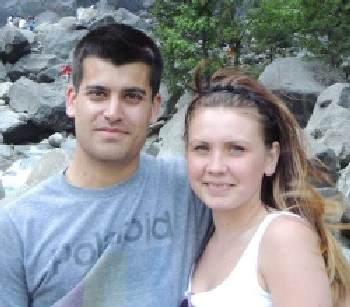 Your friends Jason and Mariya


Russia



My name is Dale and my wife now, of 2 years Nhanh were in desperate need of help!

If you are truly in love and not trying to scam the system Mr. Wahl can truly help you like he helped us.

We fell in love online, which is now starting to be common place for people looking for LOVE. Nhanh is from Vietnam and I from Ohio in the United States. We were getting a K1 Fiancée' Visa

Everyone we talked to kept telling us how easy it was to meet online and simply write a letter and petition, for her to meet me and marry in the U.S. They kept saying all you have to do is fly to Vietnam and meet in person take some pictures and you will be married within a few months. Well let me tell you that is not the case! Anyone telling you that is not being truthful, and it will cost you a lot of time and a lot of money to try and straighten out these problems if you don't have someone to help guide you like Mr. Wahl did for us.

We were denied in our first petition and Mr. Wahl looked at our situation and advised us in what we needed to do to get our EVIDENCE and proper papers in order so the U.S consulate in Vietnam would know we were in love and not trying to commit Fraud to gain access to the United States.

Nhanh and myself have talked to Mr. Wahl many times during this process, and he was always easily accessible to answer questions and give guidance and advice to help make sure our petition was the best it could be to show how much we were in love.

My dear friends i can tell you from experience That you don't need a LAWYER to handle your petition, but you TRULY need someone willing to help you and tell you the truth about bringing someone to the U.S., and Fred Wahl has guided us from our lack of information and mistakes to making sure we were happily together in each others arms and now married.

Thanks Fred

Your friends Dale and Nhanh


Vietnam