Hi. My name is Fred Wahl - I am the VisaCoach, known in the field of fiance and spouse immigration for fast and easy approval, and the personal one-on-one attention, you as my client would enjoy

I invented the three step "immigration success method" which anticipates the likely problems and sceptiscm your case might face, and then squashes those issues by working together on the ideal appearance of your case and preparation of my signature "front loaded presentation" that tells YOUR story the way we WANT it heard. When properly implemented, my method helps "win" approval for your visa even before the interview starts.

If you are considering marriage to a foreign bride or groom, be warned, the process is a lot more complex than it appears at first glance. The risks of denial and heartache, even for the most solid of couples are real.

Basically I am here to do the work, so you get your gal or guy, home from overseas as quickly and smoothly as possible.

If you would like to speak with me directly to learn more about what I can do for you,
please call or email.
Click HERE For your copy of 5 Things You Must Know Before Starting Your Visa
(Start Smart, then avoid delays and denials)
This tells you how to get started, and what to look out for.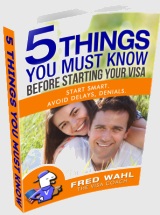 Click HERE For your copy of 120 Must Know Questions
Asked during Fiancee or Spousal visa interviews at the overseas consulates.
Study these at the end of the process to prepare for the interview.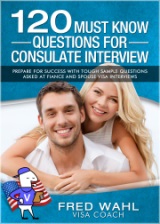 By Fred Wahl
the Visa Coach