How to bring your Fiancee from Colombia to the USA
Bringing Her From Colombia to Your Doorstep Has Never Been Easier.
I want to thank you for your expertise dealing with visas because with your help we have been approved for the fiancee visa!!!!!!

Amando + Katty


Colombia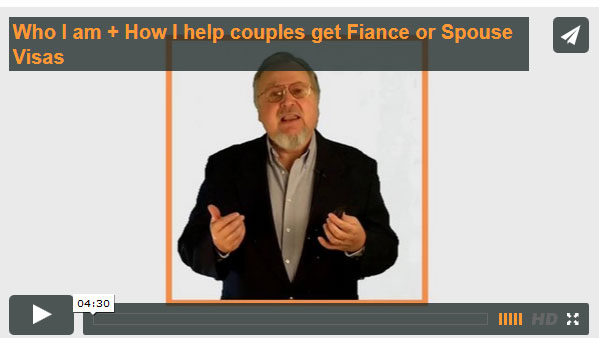 If you want your visa, FAST and SURE
you are at the right place.
I have recently (May 2014) had a case approved by USCIS in only NINE DAYS !!!!. USCIS barely had time to cash their check.
This means if hire Visa Coach,now, she will most likely join you, in the USA in about SIX months.
"Everything was done professionally. When we were uncertain about things you knew exactly how to ease our minds. Having these forms in our hands prepared by you gave us a sense of confidence as we sent them off. Your timeline was 5-7 months...it was 6 months exactly ,right on the money. "
Step 1: Send Petition to USCIS
Step 2: Take Medical Exam
Step 3: Attend Interview at US Embassy Bogota Colombia
Step 4: Visa Issued
Step 5: Travel + Marriage in USA
You only have ONE chance to make a First Impression.
Most Consulate Visa interviews last a grueling 15 to 30 minutes
most of MY Fiance Visa Petition clients
pass the interview in ONLY 5 minutes
This is because we provide the information we want the consular officer to see, 'up front' as part of the petition submitted originally to USCIS. The consular officer will typically review the package prior to the interview. When he reads the extensive and persuasive evidence that we have logically laid out for him, he should be convinced of the 'bona fides' of the relationship before the interview even starts.

This makes asking any remaining questions more a formality than a fact finding, interrogation, and leaves very little for the consular officer to say besides 'Welcome to America'.

It certainly requires extra work and effort, to produce a 100 to 150 page petition, versus a few dozen pages that most un-motivated preparers are willing to submit, but the benefit is PRICELESS as it results in of taking the pressure off of the fiancee to :"PERFORM" at the interview, thus improves chance of SUCCESS.

How To Bring your Colombian Fiancee to the USA?

Your Colombian Fiancee needs permission from the US government to allow her to enter the USA. This is called a K1 Fiancee visa.

First we work together to assemble a thick packet of forms, evidences and civil documents. This is required to demonstrate that you are eligible to apply, and that your true agenda is a genuine life together,not immigration fraud.

My signature philosophy is that a petition should be "front loaded" with high quality evidence of a bona fide relationship. My "front loaded" petitions prepare the way so that your Fiancee will have an Easier interview.

The petition package is mailed to the United States Customs and Immigration Service.

USCIS takes about 4 to 5 months to review and approve.

When finished, USCIS hands the case over to the US State Department's National Visa Center.

Fiance visa applications are held only briefly at NVC, just long enough for NVC just long enough for NVC to assign a Bogota case number and forward your file via diplomatic pouch to Colombia.

Once her petition has arrived in Colombia, your fiancee goes online to pays the visa application fee and schedule her interview.

Two weeks before her interview date she undergoes a medical exam at one of the two approved Bogota medical clinics plus visits to a third clinic for lab tests and x-rays.

Finally she attends the visa interview at the consulate in Bogota, to demonstrate she is of good moral character and the engagement is Bona fide.

A week later a courier delivers her visa, and then she can join you in the USA.

I make the process sound simple. But its not. It is easy to make rookie mistakes that can derail the entire process.

If you want it done right. Guaranteed. I can help.
I petitioned successfully for MY wife, (AND my Fiancee) too.
This isn't just a business for me.
I personally work with you one-on-one throughout the entire process until you succeed.



Let me do ALL the work for you.
I guide my clients through the whole process, starting with strategy to help you ANTICIPATE what the consulate you are dealing with wants, helping you to plan trips, and collect evidences, from a personalized, detailed "kitchen sink" document and photo check list, to preparing an AWESOME petition that because it is complete, and thorough, and well organized, and tells your story in the most believable way, paves the way for your Fiancee to have a sucessful AND pleasant interview. Not only do I prepare the intitial petition, but I ALSO stay with you all the way through the time we wait for USCIS to approve, providing guidance on police certificates, vaccinations and interview questions, then in the final run-up to the interview, show you how to schedule the earliest appointment and lastly I upload to your Personal Homepage, completed forms for your Fiance(e) to sign to take to the interview at the US embassy in Bogota, detailed instructions on obtaining chest x-ray and blood tests at Instituto y Laboratorio Clinico, physical at one of the two Bogota Panel Physicians Dra. Maria Consuelo Gonzalez or Dr. Jairo H. Roa, paying the visa fees at Banco Helm, obtaining Police Certificates, "Certificado Judicial" from Colombian police, obtaining the "DAS Certificate", details on exactly what needs to be done, what you and your Fiance(e) should do to prepare for the interview, a list of 120 most likely interview questions for you to practice, a completed affidavit of support for your signature.


By Fred Wahl
Your Personal Immigration Guide